CONGRATULATIONS TO OUR 8 WINNERS!

2020 has been our most unpredictable season yet. We swapped entertaining crowds found in gardens and parks for lights, camera, action!
Here at Heartbreak we are all about telling stories and nothing can stop us – not even a nationwide pandemic!
We sent out a call to the children ages 8-14 across the UK to send in ideas for stories based on the phrase: Escape From Lockdown. We then chose 8 stories from hundreds of entries and embarked on an ambitious journey to bring these stories to life as short films which could be shared. This launched with great success Saturday, 12th June as part of our Create Youth programme, "Tell My Story".
The event was a spectacular, socially-distanced evening where the children got to see the culmination of their efforts brought to life on the big screen.
"It was absolutely brilliant for the children to be given the opportunity to participate in something like this.What was also amazing for them, was to see what can be done with an idea and how it can be developed and made it to something else entirely all through this incredible creative process. May absolutely loved the experience and has got so much out of it -I know she will keep on writing." –Sarah Vaughan, mother of May, age 11
The winning stories that were developed into films and screened were:
EL Dayby Juno Wickens -Year 6–Walton-on-Thames– a retrospective look at Lockdown from the grandmother in 2070 sharing her experiences with her granddaughter
Germinator by Urban Townes –Year 7–Leicester –a young boy, caring for his parents who have Covid, turns into a cleaning superhero (along with his dog!)
Hope by May Vaughan –Year 7 –Leamington Spa–a traditional fairy-tale gives a young girl hope to survive the pandemic
Exhaustion from artwork by Rylee Barrett –Year 9 –Hereford–an NHS doctor reveals how difficult it is to carry on through the pandemic
The Panda Plan by Oliver Gore –Year 8 –Hereford –a group of pandas are left in the zoo mid-pandemic and decide to make their escape
Sewer Pipe by Daisy Ham –Year 7 –Bristol –Bored Evie explores her new home and discovers a parallel universe with no Coronavirus
V Zombies by Samuel Dudley-Staite –Year 7 –Solihull–two friends defeat the virus with swords, explosions, and a catapult
Loss of Colour by Chloe Milson –Year 9 –Brighton –Melanie and her friend Lacie realise that the world has lost its colour, and that only kindness, laughter, and joy can restore it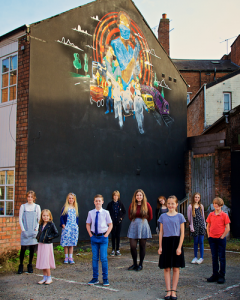 "Heartbreak has given these children a unique opportunity to express how they are feeling about this historic time we are living through." —Carole Sleight, WDC Cultural Response Unit
Maddy Kerr, Executive Director of Heartbreak, believes the project was a very important addition to the cultural landscape, "Arts Experiences have been very limited for children since lockdown, with school plays, music lessons, and outside groups all being cancelled. This project provided a much-needed outlet for children to carry out an artistic project from start to finish and see the creative process through."
Tell My Story has been funded by a grant from the Arts Council. We are very fortunate to receive this but it will not sustain the company throughout the next 12 months.  In order to keep Heart
break up and running and ensure we can be back touring next summer, we will be greatly reliant on fundraising and donations. If you are able, please visit our Go Fund Me Page to keep Heartbreak's Heart Beating.