Here at Heartbreak we are passionate about supporting our creative youth.
From running our youth drama programme Heartbreak Hub to establishing projects that link young people across the UK with creative professionals, young people are at the heart of Heartbreak's creative ethos.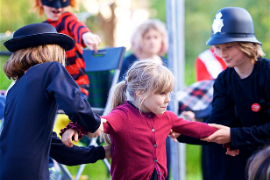 "I have been involved with Heartbreak for nearly a decade now, and through that time have gained so much, such as people skills, confidence and a good all round knowledge of the theatrical world. Through Heartbreak's skills and guidance, I have gone on to lead Climate Change Protests, make speeches at NHS Demos and worked with my school fundraising team. I have also had the chance to assist the Lead Director at the Heartbreak Hub Supergroup since 2018, our Saturday morning drama group. I owe a lot to Heartbreak, they are fantastic!" – George Towl
Current Projects
Tell My Story is a multi-media story-telling competition for children aged 8-14.
"Children are our future. And our future theatre-makers/audience. The effects of this current crisis may have permanent impact on their emotional development, ability to interact and make art happen – therefore any platform we can provide for them to create is fantastic. We're very excited about "Tell My Story" and look forward to working with the 8 winners – good luck and hope you can be one of them! Huge thanks to Arts Council Covid-19 Emergency Fund for giving us this opportunity."  Maddy Kerr – Executive Director, Heartbreak Productions
Mr Stink Poetry Competition ran in February 2020, receiving over 1000 entries.
Primary school children were invited to write poems on the topic of homelessness, and short-listed poems were judged by special guest, Dr Sabrina Cohen-Hatton. Winners were due to have their poems printed in the tour programmes, but sadly, we had to cancel this year's tour. All short-listed children received book tokens, signed copies of David Walliams' The Beast of Buckingham Palace, and are having their work showcased on our social media channels and in our poetry gallery.